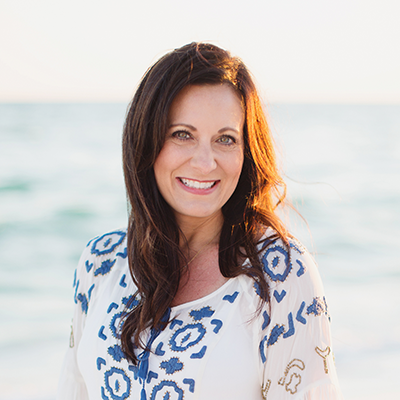 They triumphed over [Satan] by the blood of the Lamb and by the word of their testimony;" 

Revelation 12:11
I'm not sure when I first felt I wasn't good enough, but my earliest stinging memory of it happened while tumbling about a skating rink full of elementary school kids. I was a fifth grader wrapped in a less than-desirable package. My mind's eye could see gorgeous possibilities for my frizzy brown hair and buck teeth. If only my mother would let me dye my hair blonde and get it professionally straightened, if only I could convince my dentist to replace my crooked teeth with gleaming false ones perfectly sized and aligned, my world would be wonderful.
But my mother had neither the money nor the vision for my plan. So, there I sat watching the cute boys couple skating with the cute girls while Rick Springfield's smooth but edgy voice belted out "Jessie's Girl." (And for those of you who are wondering who in the world Rick Springfield is, I am so sad you missed out on the delight called '80s music.)
I fidgeted with the laces on my skates hoping to send a very clear message: the only reason I wasn't couple skating was that I had a slight equipment malfunction. But in my heart, a false perception was cutting deeper and deeper into my soul with every beat of the Rick Springfield song.
The false perception was rooted in this one flawed thought: You, Lysa, are not acceptable the way you are.
So, trying to become more acceptable, more worthy, more loveable became my pattern, and worrying about what others thought of me a consuming, often condemning way of doing life. Their opinions were my measuring stick by which to answer the question, "Who am I?"
Eventually the frizzy-haired, buck-toothed girl grew into a young woman. But on top of my adolescent issues, I also was haunted by hurts from my childhood. When I was eight years old, a man who was like a grandfather sexually abused me over a period of three years. Then, when I was eleven, my father walked out on my mother, my sister, and me. I felt totally abandoned. My parents wound up divorcing, and my mom was forced to work two jobs to try to make ends meet. These events left me completely lost.
Desperate to help my sister and me, one Sunday my mom announced we'd be adding a little churchgoing to our life's equation. So, with a dress and a Bible we headed off to the large, white-steepled building. I liked the idea of having a religion and rules but I had no idea what it meant to have a relationship with God. I thought of God like a vending machine. I put in what was required, and then He was supposed to give me what rule-following people deserved. As long as I kept up my end of the deal, God would bless me. I became "Lysa, the good girl."
Life settled a bit. My mom eventually got remarried to a wonderful man who loved me and my sister as his own. They decided to have more children.
My sister and I welcomed another baby girl to our family a few days after my fifteenth birthday. Then the day of my senior prom, we welcomed sister number 4. I'll never forget seeing Haley for the first time. She had beautiful, big, blue eyes and black hair curling in every direction. I loved each of my sisters, but the minute I saw Haley my heart melted as if she were my very own child.
By the time that fall came and I packed up my things, it was so hard to think of leaving her. I hugged and kissed everyone but lingered a little longer over Haley.
Though it was hard to leave, I saw college as the chance to completely reinvent who I was. No one there knew of my past, my absent father and abuse. So I became what I thought would bring me great fulfillment and happiness: "Lysa, the popular sorority girl dating the popular football player."
At last, I had love, stability and a plan for my future. Oh yes, and I had my religion.
Then one night I got a call from my mom that changed everything. Her urgent tone made my pulse race and my hands shake. Haley was sick. Very sick.
I drove through the night, and by the time I got to the hospital, Haley was in the intensive care unit. My parents had been told that her liver was failing and she would not survive without a transplant.
I kicked into high gear making deals with God. I'll be better. I'll follow the rules more closely. I'll be kinder. I'll give more to the church. I'll attend more regularly. I'll sacrifice whatever You require, God . . . just save my sister.
Haley was transferred to a children's hospital in another state, where she received a new liver. She made it through the first scary, post-surgery days and soon seemed to be getting better. God was answering my prayers!
Since summer had arrived again, I was able to spend quite a bit of time with Haley as she recuperated. Weeks passed, Haley grew stronger every day, and the time came for me to head back to college for my sophomore year.
Back at school, I called my mom every morning to ask how Haley was doing. Her progress continued. I was keeping up my end of the bargain with God, and He was keeping His.
But my view of religion and rule-following and making deals with God shattered two weeks afterward. I'd called my mom as usual that September morning to ask about Haley. My mom was silent. I asked the question again . . . and again. Finally, in a voice so slight I could barely hear her, she whispered, "Haley is finally all better, Lysa. She went to be with Jesus this morning."
Anger erupted from some deep place within me. Life's unfairness strained against my religious perceptions and the dam of my soul burst wide open. I snapped. With my fist raised toward heaven, I vowed I would never love God, serve God, or believe in God again. I had tried to be good enough to earn His love but just as my earthly daddy had done, I felt as though my heavenly Father just turned away. "Lysa, the good girl" would no longer be my identity.
At Haley's funeral, I remember mentally closing my heart off to God, letting my hurt and disillusionment take over. The thought that I wasn't good enough was more than just a feeling. It had become the filter through which I processed life.
My daddy couldn't love me. God couldn't love me. I was desperate to be loved. So, I found men who told me they loved me.
Until then, I'd saved myself for marriage. It was a religious rule I'd carefully followed. But my bitterness toward God numbed my conscience and helped pave the way for rejecting many of my religious convictions. Life became full of temporary moments of happiness. The deeper I sank in rejecting God's ways, the more desperate I felt. It wasn't long before I found myself sitting in an abortion clinic realizing I'd made a terrible mess of my life. Now I was "Lysa, the girl who walked away from God and had an abortion." I went home that day horrified at who I'd become.
Ironically, at this time when I was so very far from God, I had a close friend who loved the Lord with every fiber of her being. I not so affectionately referred to her as my "Bible friend," because she got on my nerves with her constant Scripture quoting.
But something about her made me want to remain friends with her. Though her Scripture quoting could be annoying, something about it was endearing, the purest form of honesty. In addition, she modeled what it meant to live the Word and not just quote it. There was a stark difference between religion as I understood it and what she called her relationship with God.
Though she had no idea of the junk I was dealing with, she was tenderly responsive to God's promptings. One especially dark and tearful day, I received a card from her. It would have been my due date. The day I would have been welcoming a new life into the world was filled with feelings of death, darkness, and hopelessness. I knew as soon as I saw the handwriting what would be in store for me if I opened the envelope . . . another Bible verse.
Sure enough, Jeremiah 29:11 was beautifully scripted across the front of the card: " 'For I know the plans I have for you,' declares the LORD, 'plans to prosper you and not to harm you, plans to give you hope and a future.' "
I wanted to toss the card aside, but something kept me focused on that verse. I read it over and over again. It was as if my name had been inserted there. "Lysa, for I know the plans I have for you, plans to prosper you and not to harm you, Lysa. Plans to give you, Lysa, a hope and a future."
This statement stood in such stark contrast to my flawed perception of being identified by my circumstances. This verse painted a possibility that the God of the universe loved me not for what I did right but simply because I was His. A child for whom He had great things planned. I didn't have to be the child of a broken parent; I could be a child of God.
In that moment I didn't know how to properly accept Jesus. I didn't know the right Scriptures to turn to. Even if I did have a list of verses to pray through, I wouldn't have been able to find them in the Bible. I didn't have all the answers, and I knew for certain I had not been "good enough." But something deep in my soul was stirring with assurance that this message was from God Himself and His words in this verse were truth.
Even a cold, hard heart like mine couldn't run from this truth. When God made me, He left His mark deep inside. His fingerprints covered my soul so no wonder His truth resonated within me. I simply couldn't deny it. There was just one word I knew must be uttered in response to the God of the universe, pausing in this moment just for me. "Yes."
Wrapped in that yes was the acknowledgment that God did exist, that He loved me, and that I wanted Him — not a religion — in my life in a way I'd never had before. I wanted so much more with God. It would take me many years to completely define and understand everything that yes meant. But the initial yes was a step toward God. A step out of the darkness that blinded me. A step toward the light of truth. A step toward my true identity that wouldn't shift or fall apart under life's strains. A step toward becoming "Lysa, a fulfilled child of the one true God." 
Lysa TerKeurst is the president of Proverbs 31 Ministries and the #1 New York Times bestselling author of It's Not Supposed to Be This Way, Uninvited, The Best Yes and 20 other titles. She writes from her sticky farm table and lives with her family in North Carolina.